Time is limited just like our ingredients.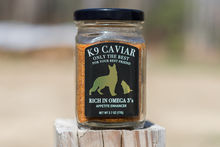 Chow Down Pet Supplies is proud to carry Canine Caviar in Montrose, Colorado. It is our responsibility to provide our pets with the happiest, healthiest and longest life possible. Canine Caviar's limited ingredient dog food ensures this is possible.
Dog Food
Dry Dog Food: Free Spirit, Grain Free Puppy, Open Meadow, Leaping Spirit, Open Sky, Special Needs, Wild Ocean
Wet Canned Food: Duck, Turkey, Venison, Brushtail, Goat, Lamb, Unagi, Wild Salmon
Cat Treats
Treats for Cats: Buffalo Heart, Buffalo Liver, Buffalo Lung
Treats & Supplements for Pets
Treats: Buffalo Bully Sticks, Buffalo Jerky, Buffalo Lollipop, Buffalo Lungs, Buffalo Metatarsal Bone, Buffalo Organ Trail Mix, Buffalo Paddywack
Come visit our pet supply store in Montrose, CO specializing in quality food, treats, and supplies for cats and dogs.